Bridal
Thank you for your interest in Jiva Salonspa. We are thrilled you've considered us to help you look your best on your big day!
To inquire about availability, please complete the form at the bottom of this page.
---
Leading up to your special day, we recommend the following:
Two to Three Weeks Prior to Wedding
Haircut and color
Practice updo with veil placement and practice makeup for the bride. We require a separate practice time with the bride's updo, makeup, and veil placement to ensure a worry-free wedding day!
One Week Prior to Wedding
Customized facial and aromatherapy body wrap for the bride
Deep conditioning hair treatment for the bride
One to Two Days Prior to Wedding
Manicure and pedicures for the bride, groom, and wedding party
Full body massage for the bride and groom
Body: waxing of brows, underarm, legs, and bikini area
Day of the Wedding
Be early!
Wear a button-down shirt or something you can take off without pulling over your head
Have dry and "dirty" second-day hair. (Dirty hair will style much easier than freshly washed silky hair!)
Don't forget your veil, hair accessories, and personal touches (pins, necklaces, etc.)
Be happy and relax! It's your wedding day and everything will be perfect!
---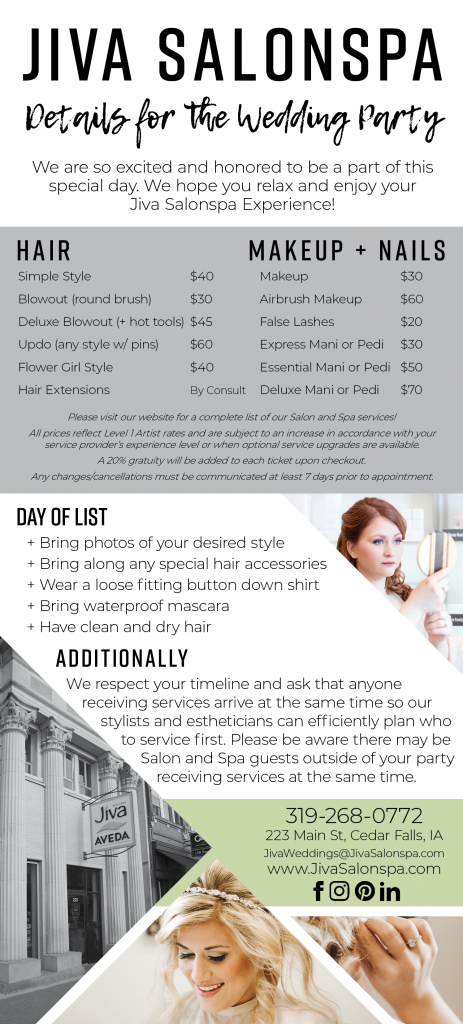 ---
Bridal Inquiry
We are so excited you are here! Please complete the Bridal Inquiry form below so that we may better assist you. Please know that completion of this form does not guarantee services. We will be in touch as soon as we are able to let you know if we are able to accommodate your requests!
---