Join Our Team
Jiva Salonspa is a busy upscale Aveda Lifestyle Salon and Spa located in the heart of the Downtown District in Cedar Falls, Iowa. This award-winning Salonspa has received recognition on a national and local level for its services, team, benefit offerings, and business! At Jiva, we pride ourselves on creating a work environment that encourages individuality, teamwork, and world-class customer service. We strive to maintain quality workmanship while helping our guests look and feel their best.
Jiva Salonspa has benefits that are unique to our industry! The design of our organization creates an environment that enables you to focus on your passion without the worry of navigating your own 401(K), health, dental, and any other stressors that come with managing a business.  Whether you are just getting started in your career or have years of experience, we would love to have you in for a tour of our facilities! Fill out the form below and we'll be in touch to schedule a walk-through of our facilities!
For a complete list of openings, view our online job board and to apply online!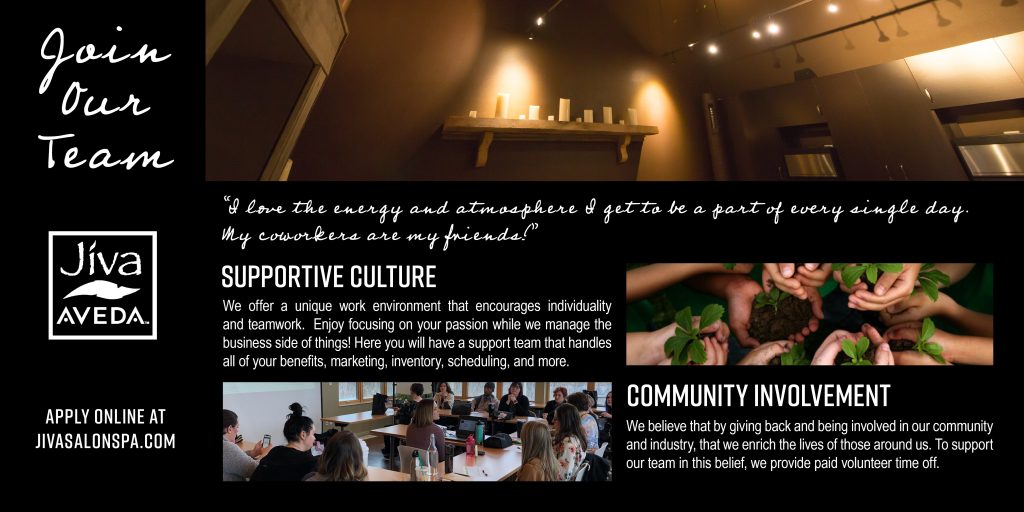 ---
Take a peek into the unique culture and facilities of Jiva Salonspa…
Jiva Salonspa Digital Business Card