Refer A Friend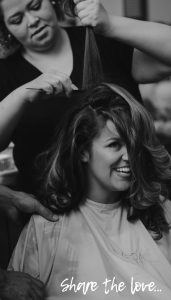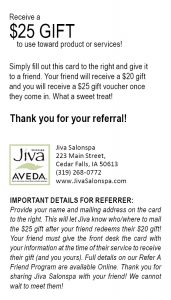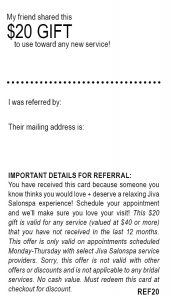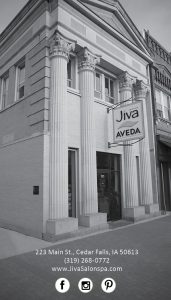 Refer A Friend Cards available per request at our front desk.
Important Details for Referrer:
Please provide your name and mailing address on the $20 card (sample above) that you gift your friend.  This will let Jiva know who/where to mail the $25 gift after your friend redeems their $20 gift! Your friend must give the front desk the card with your information at the time of their service to receive their gift (and you yours). Your $25 gift for referring will be good towards products OR services and must be redeemed in full. Only one gift redeemable per day. No cash value for $25 gift. Please allow 2-4 weeks from your referrals appointment to receive your credit via mail.
Important Details for Referral:
Someone who cares about you thinks you would love + deserve a relaxing Jiva Salonspa experience! Schedule your appointment and we'll make sure you love your visit. This $20 gift is valid for any service (valued at $40 or more) that you have not received in the last 12 months. This offer is only valid on appointments scheduled Monday-Thursday with select service providers. Sorry, this offer is not valid with other offers or discounts and is not applicable to any bridal services. No cash value. This card must have the contact information of the friend who referred you. Must redeem this card at checkout for the discount.